Let's start with a loaded question: Is eSports really a sport? This question is constantly debated and finding a clear answer is not so easy. Sport is defined according to Rodgers (1977) and Suits (2007) as " ...a physical activity that requires skill, is competitive, and has a measure of stability and institutional organization." The point about physical activity can certainly be questioned in eSports, as most competitions take place in front of a PC or console. Shooting or racing car driving, for example, can be used as a comparison. Both activities are without question sporting activities. eSports, however, demand a high degree of different skills: Tactics, communication, reaction speed or anticipating opponent moves are just a few. Researchers at the German Sport University in Cologne showed that eSports athletes make up to 3,000 movements per minute and the stress factor during a game could be compared to a penalty shootout in a Champions League final[1]. eSports can thus be defined as competitive playing of computer games in teams or alone.
[1] Westdeutsche Allgemeine Zeitung, 2019
GAMING AND ESPORTS: WHAT'S THE DIFFERENCE?
Competitiveness is also the biggest difference between eSports and gaming. While gaming is also about winning a game, the framework is quite different. Gaming takes place mainly at home in front of the computer and console, but increasingly also on mobile. eSports is growing very strongly in contrast to gaming at home. Not only the revenue figures are increasing more and more, but also the number of viewers who are interested in eSports. In 2019, 443 million people worldwide said they watch eSports. 198 million of them even describe themselves as eSports enthusiasts.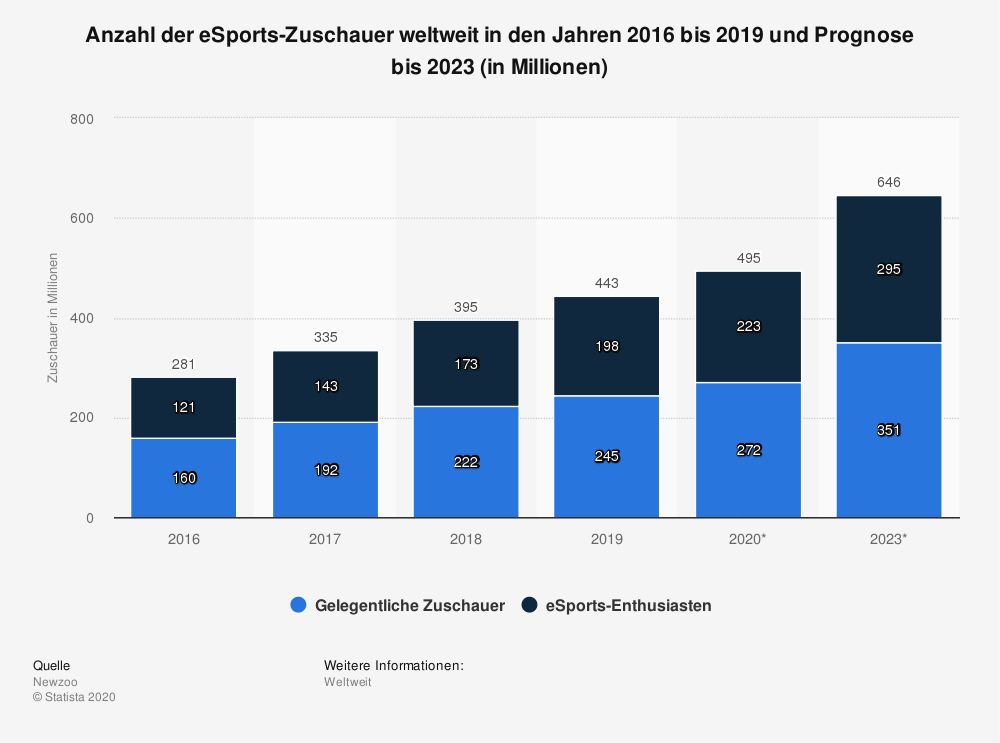 eSports tournaments no longer just take place in small rooms or basement LAN parties, but now regularly fill large stadiums and arenas. Together with streaming viewers, this creates a very broad audience. For example, the 2019 finals of the "League of Legends" game in Paris at the sold-out Accor Hotels Arena (20,300 spectators) were watched by nearly four million viewers online (excluding viewers via TV and from China), with up to 44 million viewers watching simultaneously at peak times. Even the popular game "Farming Simulator", developed by the Swiss company "Giants Software", has its own eSports league, with prize money of around 280,000 Swiss francs up for grabs. The principle of the game: to produce and deliver as many bales of hay as possible in 15 minutes of play. The simulation was the best-selling PC video game in Germany and many other countries from 2008 to 2018 and has been translated into 18 languages. In total, over 25 million versions have been sold in over 165 countries.
WHO PROFITS FROM ESPORTS AND HOW?
eSports impresses not only with huge audience figures but also with revenue figures: The eSports market made a turnover of approximately 957 million US dollars worldwide in 2019 . For the year 2023, even a turnover of 1,598 million US dollars is expected. For example, at the final tournament "The International" 2018, where the game Dota2 was played competitively, prize money of more than 25 million dollars was distributed. By comparison, at the prestigious Wimbledon tennis tournament in 2019, a total prize money of 38 million pounds (49.73 million dollars) was distributed. This makes eSports a popular platform for sponsorships. The statistics portal statista predicts that sponsorship in eSports will generate revenue of approximately $584 million in 2020. The remaining segments such as media rights, game publisher fees and streaming are enormously small in comparison.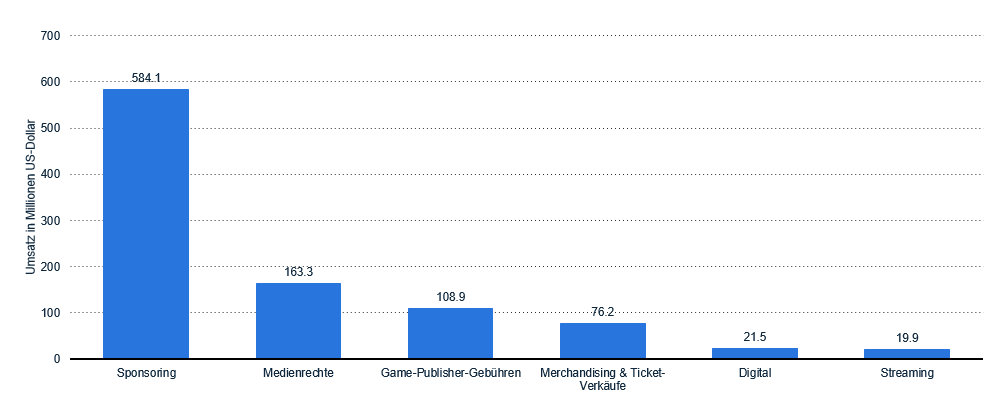 A nice example from Germany shows that sponsorship in eSports doesn't just make sense for tech-savvy companies: Wüstenrot Bausparkasse wanted to increase its brand awareness among young adults and thus found its way into eSports. Wüstenrot became the main sponsor of the ESL Spring Championship, the largest German eSports tournament. The specially developed claim "Finally, exactly my thing" appeared in series of interviews with eSports athletes and influencers and was also spread via social media. The result: Within nine weeks, Wüstenrot thus achieved over 200,000 views, around 235,000 clicks and over 13 million impressions. Another example of relevance: In 2008, Barack Obama used the video game "Burnout Paradise" to run in-game ads for his candidacy. Obama's campaign team booked advertising space in the game, which was then played out to online players. Both examples show that sponsoring in eSports also makes sense for companies that can't reach their target group (anymore) via classic media channels. The following streamers are certainly among the best-known gaming influencers worldwide:
PewDiePie: 107 million YouTube subscribers, 1.2 million Twitch followers
Markiplier: 27.3 million YouTube subscribers, 1.6 million Twitch followers
Ninja: 24.1 million YouTube subscribers, 16 million Twitch followers
Shroud: 6.6 million YouTube subscribers, 8.4 million Twitch followers
Gaming and eSports content can be watched on various platforms. The best-known platforms include Twitch, YouTube and Facebook. Google, for example, is taking a different approach with its Stadia gaming platform. Google Stadia is a cloud gaming service that allows users to decide for themselves where the games are played: on a laptop, computer, smartphone or tablet.
As in classic influencer marketing, influencers in gaming and eSports are supported from many sides. They are brand ambassadors and reach a large number of mostly young people through their streams. There are also different means to support gamers. For example, with banner ads in streams, with the sponsoring of hardware or also through financial support. Once again, such a commitment is not only an option for tech companies. For example, PostFinance is an official sponsor of the eSports team PostFinance Helix, which competes against other teams in the game "League of Legends".
Streams are also ideal for product placements and reviews. After all, what better way to showcase a gaming keyboard, for example, than while it's being played? Since the camera usually doesn't move during the stream and the same section is always visible, products can be skillfully placed. In addition, streams also allow the possibility of inserting advertising banners. Here, above all, engagement with the community is also important. Livestreams often have the option for viewers to chat with the streamer.
CONCLUSION
eSports is thus suitable as a new format for companies to address a particularly young target group that can no longer be reached via traditional media. Everything is possible, from influencers and sponsorships of tournaments and events to in-game advertising, which is developed together with the game publishers. Especially the past months and the Corona crisis have shown the interest in gaming and eSports. Thus, the usage time of video games in Germany increased by 22% in April, respectively by 21% in March . From March to May 2020, the number of views on YouTube in the gaming sector also increased by 231% in Germany. eSports is, despite everything, still a young discipline with enormous potential. Forecasts suggest that eSports will even be able to compete with traditional sports on an equal footing in terms of revenue and viewer numbers in the coming years. This is also evidenced by the number of tournaments, events such as the Zurich Game Show or HERO Fest in Bern, and the revenues generated by gaming and eSports. Gaming is becoming more and more "socially acceptable" and is no longer associated with dark cellars, chips and energy drinks. This is also shown by the commitment of Swiss Television, which organized a small eSports tournament with Swiss ice hockey players (including Timo Meier from the San Jose Sharks) in the spring of 2020 due to the ice hockey world championship, which was cancelled due to the Corona crisis. The tournament was broadcast live on SRF 2 on Friday evening. Swiss commuter newspaper "20 Minuten" has also recently launched a Twitch channel, which regularly reports on the latest events in eSports, from tournaments to gaming hits or talks and sessions with up-and-coming eSports players from Switzerland.